Book Dr. Althea Sumpter for public
appearances to present her stories on
growing up Gullah Geechee. She also
shares her techniques for documenting
Gullah Geechee elders with knowledge of the cultural past are
dying out. Elders from the Coosawhatchie Senior Center asked
Althea to preserve their stories of growing up surrounded by
One elder told her: "I did not grow up during slavery time,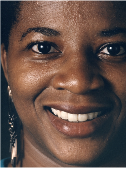 Dr. Althea Sumpter is an independent scholar who focuses on
preserving the stories of elders from the Gullah Geechee culture. In
addition, the late pioneering scholar Keith E. Baird, Ph.D. personally
designated Althea to compile his unfinished work on ethnicity, culture
and self-identification.

Please support this important work through:

Thank you.

Keith E. Baird, Ph.D. (1923 - 2017) left
behind a legacy of vital research. He
entrusted her to continue his work on
racialism, ethnicity and culture. Baird's
accomplishments have been read into
the U. S. Congressional Record.
MORE...